Storm Cruiser Jacket - Women (NEW)
Storm Cruiser Jacket - Women (NEW)
Model:

1128617

Weight:

0.23kg

SKU:

Storm Cruiser Jacket Women
Price in reward points: 22768
Product Description
Montbell proudly presents our ninth generation Storm Cruiser, a piece fully expressing the materials knowledge and design skill accumulated since its original introduction 25 years ago. Feature rich, yet light in weight we pair 20-denier 3-layer C-Knit fabric with hand pockets, and full adjustability to offer leading edge 10-ounce rain gear. The use of our K-Mono Cut pattern reduces seam lines to insure a light design and minimize areas where water can breach your full coverage storm shell. Attention to small details in design and manufacturing has yielded a jacket with enhanced comfort, improved mobility, and light weight reliability.
Material: 3-layer GORE® C-KNIT Backer Technology / 20-denier Ballistic® rip stop nylon / Water resistance: 50,000mm, Breathability: 35,000g/㎡/24hrs (JIS L-1099 B-1 method)
Weight: 227g
Color: CLARET (CLART), CORAL PINK (COPK), DARK NAVY (DKNV), LIGHT TURQUOISE (LTTQ), MUSTARD (MST)
Size: XS, S, M, L, XL
Compressed sizes: 7×7×14cm
Pattern designed to minimize seams and reduce weight / Original "K-Mono Cut" pattern / Fully seam taped / 2 zippered hand pockets (20 cm opening) / Weather resistant Aqua-Tect main zip / 3-way adjustable hood / Slightly articulated arms with adjustable alpine cuff / Stuff sack included
Tri-Axial Hood (3-way Adjustable Hood)

Adjustable at three points: A Velcro tab adjusts brim height, draw cord at back of hood adjusts peripheral vision and two draw cords adjust fit around your face. This configuration allows the hood to follow the movements of your head.

Roll Up Hood

Roll the hood up and attach it to the loop at the collar via the hood's Velcro® tab.
Adjustable Alpine Cuffs

Easy-to-adjust Alpine Cuffs seal out the unwanted elements such wind and snow
Original Pattern Improving Movement

A unique pattern that enhances range of motion in the shoulders and prevents arm movement from tugging on the body of the jacket, especially with arms overhead
Bonded Hems

Instead of sewing the hems and then seam sealing, bonding the hems together reduces weight by eliminating thread and fabric and minimizes possible areas where water can penetrate.
Weather Resistant Aqua-Tect Zipper

Eliminates the need for storms flaps, reducing weight and making it easier to zip and unzip.
Hem Adjusters

Quick hem adjustment by pulling draw cord.
GORE® C-KNIT BACKER TECHNOLOGY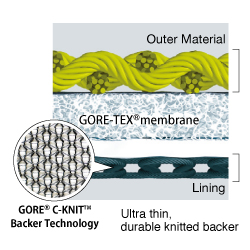 Starting in Spring 2015, the Storm Cruiser Jacket utilizes the new C-Knit Backer technology from Gore-Tex. The waterproof breathable membrane has been laminated to an extremely thin knitted fabric. Compared to traditional the tricot used by Gore-Tex the knitted backer in the C-Knit technology yields a fabric that is 15% more breathable and 10% lighter. The most noticeable improvement is the feel of the fabric. The first time you wear the jacket you will be struck by the soft hand and slight stretch of the fabric, which eliminates of crinkling and rustling normally associate with rain wear.
AQUA-TECT Zipper
This water resistant zipper eliminates the need for storm flaps, reducing weight and making it easier to zip and unzip.

Cut from a single piece of fabric, K-MONO CUT drastically reduces the amount of seam lines eliminating areas where water can penetrate, promoting the jacket to be waterproof and lightweight. This innovative pattern is based on Montbell's philosophy of "Ki-no-bi" which is a Japanese term for "Function is Beauty".
< WATERPROOF > Reducing the amount of seam lines eliminates areas where water can penetrate the jacket.
< LIGHTWEIGHT > Minimizing the amount of seam lines and tapes reduce the jacket's final weight.
About the material: Ballistic nylon

Ballistic nylon is one and a half times more abrasion resistant than other similar weight fabrics and boasts three times the tear strength of nylons that are almost 20% heavier. Because of this, Ballistic nylons have allowed us to reduce the weight of many of our products by more than 50% without sacrificing the durability. We create Ballistic nylons by heating and stretching nylon fibers. Much like Tensiled steel, this process aligns the nylon molecules in each fiber, dramatically improving the strength and stamina of the fabric.
Material Information (38-145)
Since this product is designed to be as lightweight and compact as possible, it is made using very lightweight materials. When the fabric is stressed, it is possible for the membrane to darken the appearance of the outer fabric. However, this has no effect on the membrane's waterproof performance.
Care Information
Washing Instructions
Machine wash / Warm / Permanent press
Do not bleach
Tumble dry / Normal / Low heat
Usually added to line or drip dry / Dry away from direct sunlight
Iron / Low
Dry clean / Petroleum solvent only
Wet cleaning / Normal process
USE PRESS CLOTH
DO NOT SPIN
CLOSE ZIPPER WHEN WASH
USE NET
NEUTRAL DETERGENT ONLY
DO NOT IRON ON ZIPPER, ADHESIVE TAPE AND PRINT LABEL
DO NOT LEAVE WET